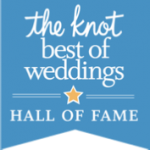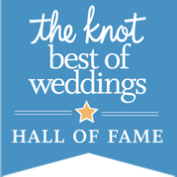 Our clients proved we are the best wedding DJs by reviewing us into TheKnot.com "Best Of" Hall of Fame
Zach L. | November 1, 2021
"Josh did an amazing job with our wedding! He made the entire process including the planning of our night a breeze! He played great music and brought an awesome energy to the whole place!"
Paola Q. | August 5, 2021
"SPIN DJ did an amazing job at my daughters 1st birthday party! They mixed the playlist I provided and was great with all the change of plans at the last moment of the event. Their team was super patient! The GOBO animation also created the circus vibe I was going for. Will definitely be using them for future events!"
Bianca P. | April 12, 2021
"Josh was a phenomenal DJ for our wedding! He provided a timeline that not only allowed us to put in all of our songs, but also guided the entire flow of the day. He was professional, quick on his feet to solve a problem when I forgot a detail, and so much fun for the crowd! I'd highly recommend him for anything that needs a DJ!"
Suad B. | January 18, 2020
"I was a photographer at a recent wedding where Josh was a DJ, and I was amazed at a job he did. He kept the crowd engaged and he made sure everyone in the wedding party knew what's coming up. It's almost as if he were a wedding coordinator. He had a variety of musical games and dances, and there was always someone making moves on the dance floor. The playlist included many of the crowd favorites, and there wasn't a dud in the mix. I would happily recommend Spin DJ for any event - if you don't hire him, your party is just going to be boring."
Charlie W. | January 17, 2020
"Josh Meek of Spin DJ Entertainment is incredible! Josh has been the official DJ for our nonprofit Christmas gala for the past 5 years now and we couldn't host our event without him. Not only is he incredibly professional, he has an immense knowledge of music and what gets people on the dance floor along with any and all sound production needs. Josh is also just a great person, his reputation in the community is extraordinary!"
Amanda P. | Dec. 12, 2019
"I booked SPIN DJ entertainment for my 40th birthday party. I had requested the best of 80's and 90's music and they did not disappoint! Highly recommend them for parties and weddings!"
Mariah M. | June 30, 2019
"A DJ was never in the books for my wedding, it was never something we considered. Everything changed when I spoke with Josh. Josh is very pleasant to work with and very knowledgeable. I never once felt pressured into anything like I had with other companies I had spoken with. I knew I made the right choice, once all the papers were out of the way we created a Wedding day music timeline. Come day of the music was great, Josh felt out the crowd and the music was always perfect. I got a lot of compliments on the DJ and even people asking for his into. I would 100% recommend Spin for your wedding."
Kati S. | April 7, 2019
I didn't have a huge respect for DJ's until I saw all that Josh did the week of and day of the wedding. He was incredible and everything ran smoothly because of him. We could not have had a successful night without him, he was patient and kept everything moving. He also had to be quite flexible as it was a Sunday night with no alcohol and cleared out quickly. He was great!
Natalie R. | February 21, 2019
Joshua is always awesome to work with! We use him for ALL of our DJ needs. He is truly a professional, has great advice, is easy to work with, and keeps EVERYONE entertained and on the dance floor. He always takes our selections to heart, and our style and taste from the guidance we give, but improves it for our guests to get the right flow and energy. He is super fantastic at his job and I would highly recommend him to anyone looking to hire a DJ! Hands down the best one in DFW!
"Spin DJ Entertainment did a great job at our wedding. We actually used them after they did seeing the awesome job they did at my sisters wedding! Highly recommend them to family and friends getting married."
David C.
July 21, 2016
"My husband and I are so glad that we chose Spin DJ Etertainment! Joshua did a fantastic job DJaying our reception. He was well organized and easy to reach out to during preparation for our big day. My guests, my husband, and I had a wonderful time at our wedding and we are glad that we chose Joshua."
Erin M.
May 14, 2016
"From start to finish Josh was so helpful and patient with the whole process leading up to our wedding. The dance floor was never empty and people are still talking about what a great time they had! Josh was so fun, energetic and interactive. He really knows how to read the crowd. Thanks for everything guys!"
Jessica J.
April 16, 2016
"Spin DJ Entertainment is the BEST!! Josh our DJ is professional, courteous, and is very detailed. He went above and beyond what is normally considered to be done by a DJ. He's great at keeping the wedding moving along, getting your guests up and dancing, and best of all keeping everyone entertained by avoiding those awkward silent moments, he was a fantastic coordinator! Our guests couldn't keep from commenting how much they enjoyed our wedding because of Josh. I had my dream wedding and couldn't have done it without Josh and Spin Dj Entertainment. I highly, highly recommend them!!"
Ruthi C.
August 20, 2016